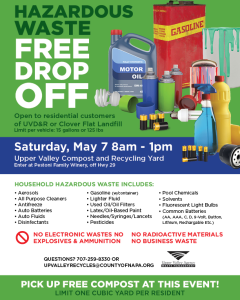 When Saturday May, 7, 8am-1pm
Where: Enter at Pestoni Family Winery, off Hwy 29.  Please do not enter through Whitehall Lane.
Open to all residential customers of Upper Valley Disposal & Recycling and Clover Flat Landfill.
Drop off your household hazardous waste and leave with some organic compost or wood chips for your garden/yard at no cost!
HHW limit 125 pounds or 15 gallons per customer. Limit 1 cubic yard per of compost or wood chips per customer.